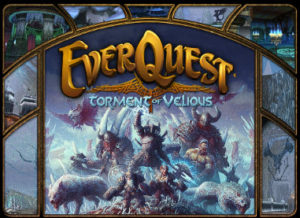 Hail Norrathians, 
It's hard for us to fathom that it's been 21 years since this grand adventure began The myriad lands and challenges you've all completed have brought us an incredible sense of awe time and time again. We couldn't be happier to share another year with all of you and can't wait to see what the next year brings.
We've got some great things in store for the anniversary, some of you're already experiencing, such as our new Overseer feature and the Veteran AA rewards. We still have a few things we'd like to discuss below as we enter our 21st year, including our annual 50% bonus experience event, which will be from March 16, 2020 12 AM PDT to April 1, 2020 at 1 AM PDT.
New TLP server news? 
Yeah, we got that. We are incredibly excited to announce the names and general rule set info for the TWO new TLP servers we will be launching in the coming months. Please put your hands, paws, and claws together for Aradune and Rizlona! Aradune is a new concept for our Truebox server rule set. It's going to have similarities to Mangler's rule set in terms of XP, era locking, and a lot more. Rizlona will also share the Mangler rule set and be our first boxing progression server in a long time. More specific rule sets and how they will function differently than the current TLPs will be shared in the coming weeks!
Heroic Level 85 Character Boost
Ready to try out a new class, want to make a home on a different live server? We're giving all All Access Members a free Heroic Level 85 Character Boost to celebrate our birthday. Start a new life in a new home, or just try something new on your current one. You'll be able to claim the bauble from March 16 through May 10!
Server Merges
To prepare you and your characters for the universal shift, we wanted to let you know what servers are on the list. We don't want anyone getting the matter in their bodies all mixed up, that can get messy.
Lockjaw -> Ragefire
Trakanon -> Vox
Fippy -> Vox
Brekt -> FV
Player Designed Anniversary Quests!
We love the ideas we've gotten from players over the years.  The development team worked to implement two player-designed quests that were submitted at Fan Faires over the years. This year for the anniversary quests, prepare to dive into some relationship woes and a culinary conundrum! You can find the following quests and their quest givers below!
Quest: Fancy Feast
Quest Giver: Maitreya the Maitre D'
Starting Zone: Plane of Knowledge
Quest: I Guess this is Growing Up
Quest Giver:  Emissary of Erollisi Marr
Starting Zone: Plane of Knowledge
Thank You
A huge thanks to both players that submitted the quests and to all of you for passionately sharing your ideas and love for the game with us! You've been a huge part of our lives and adventures, and we hope we've been part of yours as well.
Cheers to turning 21, and here's to seeing you in-game!
– The EverQuest Team