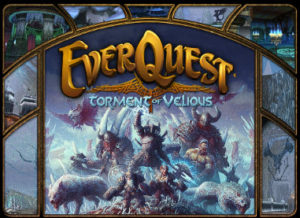 *** Highlights ***
– Grab your bags for Black Friday and Cyber Monday. All bags sold for Daybreak Cash are 15% off from 11/25/2021 to 12/01/2021!
*** Items ***
– Fixed a bug where selling a stack of items via barter would sometimes only sell partial stacks.
– Fixed the recourse spell in Claws of Veeshan Bard breastplate click effects.
– Lore items will no longer disappear from a canceled trade.
*** Tradeskills ***
– Corrected multiple issues with the success chance label on the Tradeskill window.
*** Quests & Events ***
– Quests with rewards that will result in a lore conflict will now return your items.
– Priests of Luclin no longer require soulstones to complete their tasks. Speak with them instead.
– Fixed an issue with the To Kill a Thel Ereth Ril quest where turning in the quest item to Alchemist Vaskerin would result in getting the wrong quest item in return.
*** Spells ***
– Enchanter – The proc portion of Night's Endless Terror and Night's Perpetual Terror now have a unique buff icon. The illusion portion retains the standard illusion icon.
– Corrected an issue where a combination of Troubadour's Synergy and Evoker's Synergy would proc Ignite Blood.
*** Overseer ***
– Corrected an issue where all available Agents would not always be listed when starting a new quest.
– Fixed a bug that caused Overseer quest stats to sometimes be incorrect after zoning.
*** Progression Servers ***
– Found the missing Agents of Change on Phinigel and made them get back to work.
– Cazic Cenobite will now have a chance to drop Rubicite Boots on Progression servers while in-era.
*** Miscellaneous ***
– The 500 free DBC reward will no longer display "Add Time" for Lifetime accounts as the default.
– Fixed the issue where an angry eqgame.exe process would hang around in the background after exiting the game.
– Fixed a bug that could cause a client crash when casting spells.
– Added several new zone loading bar messages.
– Corrected an issue with items being removed from the Advanced Loot Window prior to 15 minutes.
– Corrected a bug that could cause the client to crash when zoning.
*** UI ***
– Fixed a client crash that could occur when clicking on an achievement link in an item's lore tab if the achievement does not fully exist yet.
*** Previously Updated ***
– Corrected an issue where translocate spells resulted in a message about the destination zone not being ready.
– Fixed an issue with the Vex Thal Key Shard drops.
– Corrected an issue where NPCs could strike through a riposte even under the effects of a 100% avoidance discipline, such as Deflection or Deftdance.
– Corrected an issue where the Adventurer's Perk experience bonus didn't apply to AA.
– Corrected an issue where the Merchant's Perk would sometimes display that you got a bonus tradeskill skill-up, but the skill-up chance had failed.
– The Yxxta riddle should function in Avatar of Change instances.
– The EverQuest Team